Saturday Jul 23, 2022
Learning to Talk with Those you Don't Agree with Makes you Stronger!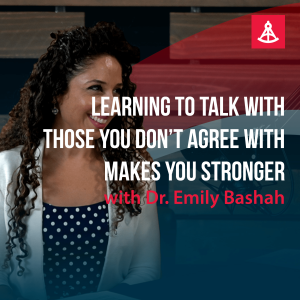 Dr. Emily Bashah, a psychologist focused on trauma and related challenges, and Paul Johnson, host and founder of The Optimistic American podcast, discuss the "7 Codes" designed to help listeners/readers successfully navigate this divisive world. 
Their 7 Codes:
Make Space for Optimism
Begin Anew and Start with Love
We Not Me – We Belong to Something Bigger
Strength Over Safety
Real Power is Within Us –We are Not Victims
Exit the Box We Build for Ourselves – Stop Labeling/Comparing Others
Building a Better You
In Episode 3, Dr. Bashah and Paul discuss putting strength over safety. Strength means resilience, courage, bravery. All of us need to face our fears, at times confronting others with difficult conversations yet looking others in their eyes and humanizing. The American founders created a country that remains a work in progress, designing America to progress towards a "more perfect union."
Dr. Bashah and Paul note that in America we share fundamental truths binding each other. And while our founders focused on individual rights and freedoms, they created a "social contract" enabling the power of the collective, to solve together seemingly intractable problems. Every one of us needs to control their individual "agency," their individual rights and powers.
We are The Optimistic American, and we are in the business of promoting what is going right in our country. Every day, there is tremendous progress being made in America — across technology, public policy, science and medicine, and much more — that will set current and future generations up for success. Our goal is to highlight these advancements and tilt the scale of news and information from pessimism towards optimism.
This interview reflects the best themes of The Optimistic American, that our best days lie ahead.
You can listen to this episode on Spotify, Apple Podcasts, or Google Podcasts! 
Spotify: https://open.spotify.com/show/0mfMCiR0Jtqs8lr4JeuYwA
Apple Podcasts: https://podcasts.apple.com/us/podcast/the-optimistic-american/id1615223090
Google Podcasts: https://podcasts.google.com/feed/aHR0cHM6Ly9mZWVkLnBvZGJlYW4uY29tL29wdGFtZXJpY2FuL2ZlZWQueG1s
We post new content every week so make sure to subscribe, turn on notifications, and like our videos! 
Learn more about The Optimistic American by checking out our website! https://www.optamerican.com